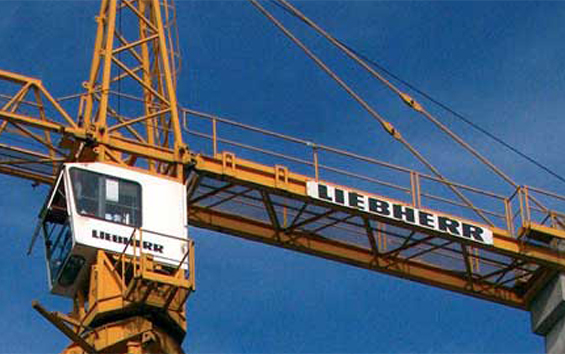 Horizontal jib tower cranes are versatile and efficient. They easily adapt to any project whether using concrete, steel or other types of construction materials. It's practical modular construction makes transport, assembly and disassembly quick, easy and cost-effective. The horizontal jib tower crane has earned a solid reputation for its dependable performance and excellent safety track record.
Should you require any further information please contact our office.
For more details click on model.
| Model | Manufacturer | Max Load | Reach | Nose |
| --- | --- | --- | --- | --- |
| 11LC90 | COMANSA | 6 Tonnes | 52.5m | 1,100kg |
| 11LC132 | COMANSA | 6 Tonnes | 60m | 1,100kg |
| 11LC150 | COMANSA | 8 Tonnes | 60m | 1,650kg |
| 11LC160 | COMANSA | 8 Tonnes | 65m | 1,200kg |
| 16LC185-10T | COMANSA | 10 Tonnes | 65m | 1,760kg |
| 16LC185-12T | COMANSA | 12 Tonnes | 65m | 1,760kg |
| 16LC220 – 10T | COMANSA | 10 Tonnes | 65m | 2,140kg |
| 16LC220 – 12T | COMANSA | 12 Tonnes | 65m | 2,140kg |
| 16LC260-10T | COMANSA | 10 Tonnes | 70m | 2,140kg |
| 16LC260-12T | COMANSA | 12 Tonnes | 70m | 2,140kg |
| 21LC335 – 12T | COMANSA | 12 Tonnes | 74m | 2,970kg |
| 21LC335 – 20T | COMANSA | 20 Tonnes | 74m | 2,970kg |
| 21LC450 – 20T | COMANSA | 20 Tonnes | 80m | 3,300kg |
| 21LC450 – 25T | COMANSA | 25 Tonnes | 80m | 2,860kg |
| 21LC550 – 20T | COMANSA | 20 Tonnes | 80m | 4,400kg |
| 21LC550 – 25T | COMANSA | 25 Tonnes | 80m | 3,960kg |
| 21LC600 – 20T | COMANSA | 20 Tonnes | 80m | 4,950kg |
| 21LC600 – 25T | COMANSA | 25 Tonnes | 80m | 4,510kg |
| 21LC650 – 20T | COMANSA | 20 Tonnes | 80m | 4,950kg |
| 21LC650 – 25T | COMANSA | 25 Tonnes | 80m | 4,510kg |
| 21LC660 – 20T | COMANSA | 20 Tonnes | 84m | 5,830kg |
| 21LC660 – 25T | COMANSA | 25 Tonnes | 84m | 5,280kg |
| 21LC660 – 37.5T | COMANSA | 37.5 Tonnes | 84m | 5,280kg |
| 21LC660 – 50T | COMANSA | 50 Tonnes | 84m | 4,620kg |
| 21LC750 – 25T | COMANSA | 25 Tonnes | 80m | 8,030kg |
| 21LC750 – 37.5T | COMANSA | 37.5 Tonnes | 80m | 8,030kg |
| 21LC750 – 50T | COMANSA | 50 Tonnes | 80m | 7,370kg |
| 21LC1050 – 25T | COMANSA | 25 Tonnes | 80m | 11,880kg |
| 21LC1050 – 50T | COMANSA | 50 Tonnes | 80m | 11,220kg |