Transport and Loading Platforms
Two person workplatform. For max. 2 persons and tools. Net load 250 kg, width 1140 mm, length 1200 mm, suitable for use with forklift truck or crane. Fitted as standard with practical tool tray, four crane lugs (no hain) and entrance door on side. Built in conformance with the official labour safety regulations.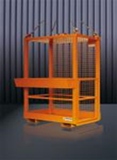 Stretcher Cage. For two persons; the injured person in the stretcher and the first-aider. The two doors on the narrow sides of the fully enclosed cage permit the first-aider to enter and leave the rescue cage with the stretcher at whichever is the open side; with spring-loaded lug, 1.40 m rope and spring-loaded legs for shock-proofing when setting down. In conformance with official labour safety regulations and safety regulations for hoistable passenger lifting equipment (passenger lifting equipment, "Test for Safety")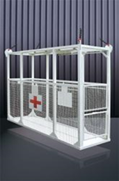 Superdeck Suspended Loading Platform
Major construction sites are masterpieces of planning, skill, technology and logistics. Making sure that building materials are ready on plan and in schedule is equally challenging for planners, site managers and crane operators. The Superdeck transport platform brings efficiency to the construction site. Using Superdeck, machines, equipment and heavy or bulky materials – whether on pallets or in containers – can be distributed safely and economically to the various floors of the building. Superdeck offers you convenience, cost-effectiveness, and operational safety.