Forklifts are an essential tool for many businesses, allowing for the efficient movement of heavy loads. However, to maximize their potential, forklifts require the right accessories. At Casey Group, we offer a range of forklift accessories to suit any need. Our accessories include forklift attachments such as clamp attachments, drum handlers, and pallet forks. We also provide safety accessories such as mirrors, warning lights, and back-up alarms. For added convenience, we offer forklift battery charging equipment and spare parts. Our team of experts can help you select the right accessories to ensure your forklift is working at its best. Contact us today to learn more about our forklift accessory options.
Please Contact us for more information and rate our services on Google.
2081 Extending Jib 2,500kg – 5,000kg
The crane arm attachment for forklifts provides new reaches: Massive design from section tubes, welded and screwed, length extendable in 7 steps.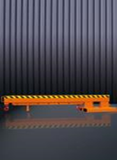 2084 Load Hook 1,000kg – 5,000kg
Multi-talent on every factory site: The forklift attachment with swivel load hook for quick, spontaneous transportation tasks with working loads up to 1t. It is fixed to the forklift fork from the bottom by a centric wing screw.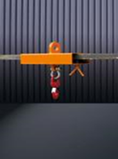 2062 Tipping Shovel 1,600kg – 2,500kg
The shovel attachment has been designed for high loading capacity with extra stable shovel sheet, all round edge section, reinforced corners and special tipping ribs. The stable base frame is mounted on the fork lift docking pockets and secured against unintended slipping. The shovel can be quickly picked up with the forks and operated in any position via rope pull from the driver seat.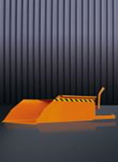 2064 Loading Shovel 1,600kg – 2,500kg
The shovel attachment replaces the digger on the factory site. Slow, well-aimed emptying from any height is possible with the aid of its two hydraulic cylinders. The stable section edges, robust scraping rib and safety chain are designed for highest loads and long life.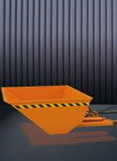 Stable steel sheet design with reinforced section edges for clearing snow with fork lift. Dozer shield can be adjusted to the right and left. Shield with 1500mm – 2400mm.

2081 Extending Jib 2,500kg – 5,000kg
Stable hopper attachment with docking pockets for fork lift for spreading grit, sand or salt.The stirring unit driven by the fork lift hydraulic system ensures uniform distribution at an adjustable spreading width up to 9 m and prevents clumping up of spreading material. With protective grid from zinc-dipped steel, mesh width 50/50/5 mm.