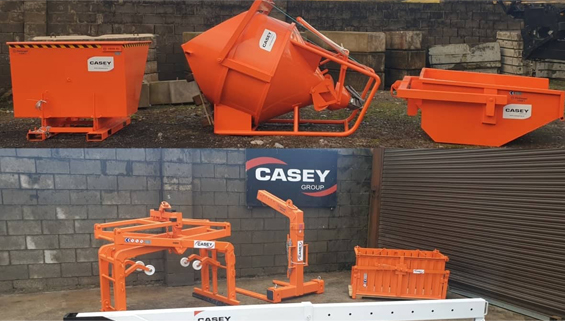 Skip Hire | Skip For Sale | Quote Today
Looking to hire a skip in Kildare or nationwide? Don't worry, we have got you covered. Casey Cranes are the suppliers of Skips in Dublin and Kildare. Hire fork tipping skip, concrete skip, and muck skip suitable to your needs.
We supply fork tipping skips, concrete skips, and muck skips for construction. Constructions buildings produce a large amount of waste which needs to be cleared and disposed off.
These skips are one of the most popular due to the following reasons:
These are easy maintenance,
Both side fork pickup
Top edged are rolled off to provide extra strength.
Concrete skips are commonly used to pour concrete. Their heavy-duty and extra rugged design makes it easy to use with cranes and supply concrete at the right place.
There are different types of concrete skips to match your needs:
Rollover concrete skips
Concrete tray
Straight flow skips
Fork Mounted concrete skips
These skips are generally used to remove mucks and waste from the site. A latch is attached to the crane for emptying the skip or a third party is required to empty the skip manually.
Search for skips near me or get in touch today for further information and visit us.