Grab Grips & Loading Forks
1081 Automatic grab 600L – 1,200L
Single-rope self dumping crane grab for the loading and transportation of bulk material and loose earth by crane. Automatic grabbing with the closing and opening mechanism of the clamshell bucket. The opened clamshell bucket is lowered onto the loading point, where its shells close and take up the bulk material automatically when lifted. When lowered again the shells are opened by the automatic mechanism and emptied. Simple, rugged construction, service-proven with numerous satisfied customers. High operational reliability and safety and easy to operate.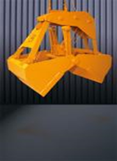 Specifically designed and developed for the UK market to lift palletized brick loads (Note: bricks must be securely bound). Suitable for handling all types of concrete products such as slabs, steel-strapped bricks, blocks kerb stones and paving blocks. Fitted with an automatic' open/closed device that enables a single operator to stack or un-stack palletized bound loads. Lined with hard rubber pads to minimise damage to load.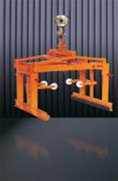 1558 Boulder Grab 1,500kg – 2,000kg
Mechanical grab designed for the safe transportation of irregularly shaped stones (boulder) or ashlar. Mechanical grippers with detachable double-strand chain tackle.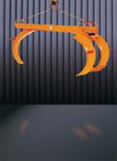 1565 Barrier Lifter 150kg
For safe and economic transportation and placement of road sections and other large concrete elements. All-purpose and fully adjustable gripper with automatic switching of traction kinematics from clamping to non-clamping. Jaws made of diamond-hard metal. The gripper is constructed according to the technical work regulations of the trade association.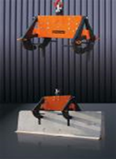 Capacity 4-6 bottles. A safe method of transporting gas bottles on site, with lifting lug and top mounted fork channels for using either fork lifts or crane.

Adjustable forks / automatic balancing. With infinitely adjustable by spindle guide from 540 to 900 mm, working height adjustable by pin system from 1150 to 1750 mm. Automatic weight compensation with steel roller guide in top section. Available with safety chain, safety cage or loading box of standard size or of any special size to order. Load capacities are quoted for a distance of 680 mm between the cross beam and the centre of gravity of the load.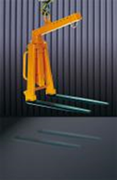 1081 Automatic grab 600L – 1,200L
Adjustable forks / manual balancing / self balancing. Prong spacing infinitely adjustable manually from 450 mm to 950 mm and predefined useful height. Optionally: Bearing ring for weight compensation infinitely adjustable manually or automatically by compression spring. Fitted with mountings to allow attachment of recommended safety net. Available with folding top for ease of transportation.