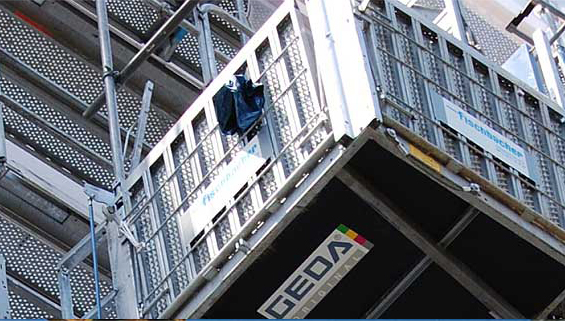 Hoists Hire | Construction Hoists Kildare | Construction Hoists Dublin
Caseys Cranes has wide range of construction hoists in in Dublin and Kildare. Explore our wide range of hoists likes GEDA Star, GEDA Mini, GEDA Maxi, GEDA Lifts and more.
Please Contact us for more information and rate our services on Google.
Click on images below for more details.
The GEDA LIFT, which has already proved his worth is the ideal transport hoist on for the movement of materials with a number of accessories available providing many options for multiple use. GEDA LIFT, the inclined hoist for everything that has to be transported up or down.
GEDA scaffold hoists offer great advantages primarily thanks to quick assembly and rapid conversion. The handy rope drum drive is easily secured at the bottom of the scaffold while the lightweight swivel arm is attached at the top of the scaffold at the desired height. The maximum working height is 40 metres, reaching up to 76 metres when the winch is set higher.
The light-weight swivel arm hoists can be mounted at any position on the structure. Whether on the scaffold, at a window, between floors or on the roof, these hoists are quick and easy to use even under tough conditions. A maximum working height of up to 50 metres is possible.
The GEDA 300 Z with its lightweight 2 metre aluminium mast segments has been used on building sites for various kinds of transport for many years. Its spacious load platform with a maximum capacity of 300kg up to a height of 50 metres makes it the ideal rental unit for permanent use on building sites.
The GL 500 has a maximum payload of 500 kg, up to a height of 80 metres. Using the system, it is possible to rapidly and easily raise all the tools and equipment, scaffolding material and building products to the required height.
Material & Passenger Hoist
The transport platform GEDA 500 Z/ZP offers a simple transport system for materials and people with a spacious open top transport platform. Two operating options offer material only hoist with a load bearing capacity up to 850kg or a transport platform for a maximum of 5 people and loads up to 500kg.
The transport platform GEDA 1500 Z/ZP unites two different machines in one, hoist for materials with a load bearing capacity of 2000kg and a transport platform for material and persons. The GEDA 1500 Z/ZP may transport 7 people in addition to 800kg of goods as soon as it has been switched to the operating mode "transport platform". The load platforms provide enough space for bulky and heavy building materials.
The triple hoist SC20 from Scan Climber offers first class safety, comfort and reliability to the Construction Hoist range. With the renowned Scan Climber twin mast system providing stability and comfort, load carrying capacity of 2,000kgs and operating speed of 24 metres per minute Scan Climber is one of the market leaders in the industry.
The EHPM2500/10 is a single mast transport platform with a load capacity of 1,500kg and operating speed of 12 metres per minute. With a platform size of 3080mm x 1640mm this hoist is ideal for the transport of bulk building materials.
The EHPM2500/15 is also a single mast transport platform with a load capacity of 2,000kg and a operating speed of 12 metres per minute. This model offers flexibility to change the size of platform required which is suited to locations of limited space.